Generate 10x more leads with the world's safest software for social selling automation
INTEGRATE LEADETH® WITH YOUR FAVOURITE CRM TOOLS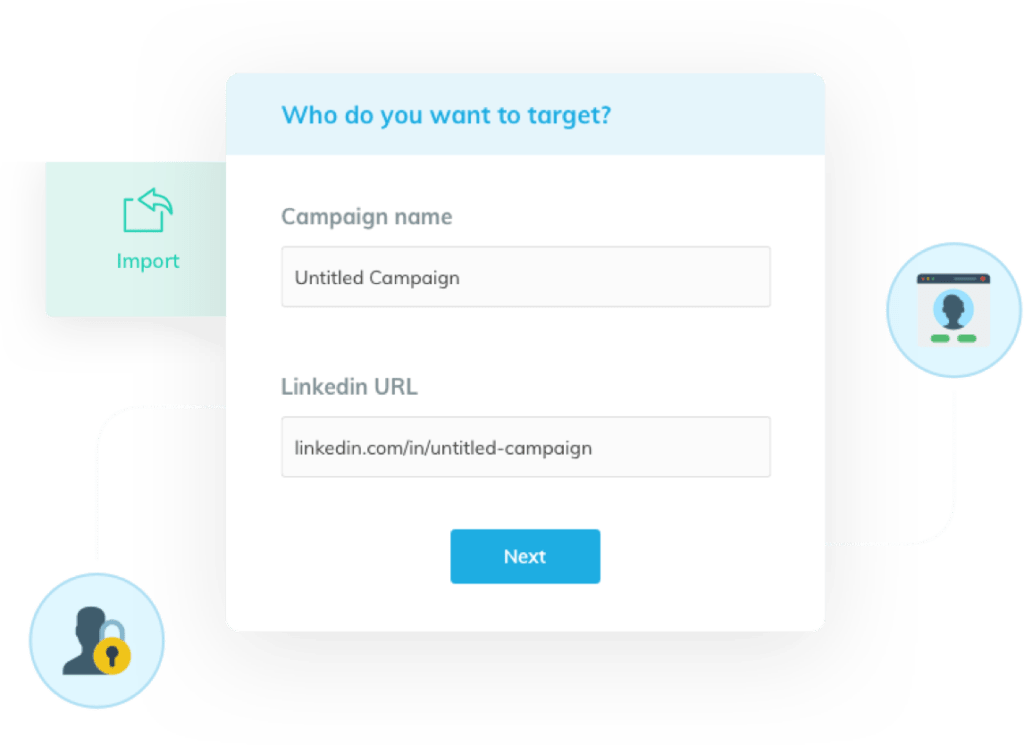 Choose Your Target Audience
The engagement has never been closer.
Once you filter your ideal prospects, we allow you to select the desired level of engagement like Profile Views, Post Likes, Connection Invites or a sequence of Messages.
We support all types of searches like, advanced search, Sales Navigator, and LinkedIn post engagement searches (it's really amazing). You can also upload your own CSV list of leads.
Leads have never been closer. Once you set your prospecting criteria, you can automatically create multiple campaigns for different market segments.
Add as many steps as you need with our intuitive interface. You can program the whole cycle without any limitations using automated messaging and connecting.
Get Better Campaign Insights
Get key insights with up-to-date metrics of your LinkedIn prospecting campaign to better understand things like your connection volumes and response rates.
Our dashboard allows you to track whether you need to take action or take over the conversation through our smart inbox chat system. Never miss a message with separate chat screens for every campaign.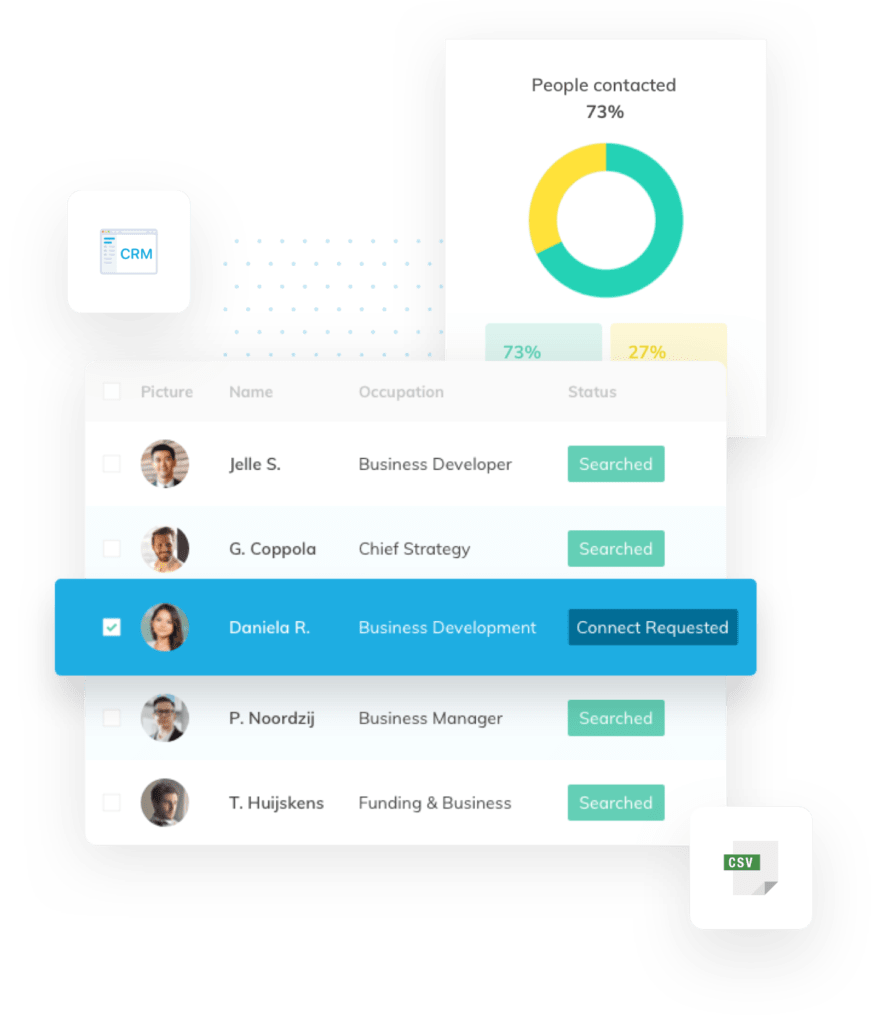 Integrate your CRM
Synchronise profiles, contact information and hot leads directly to your favourite CRM system using Zapier or web hooks.
Send drip campaigns
Create drip campaigns and message sets in sequences to automate follow-ups and increase the productivity of your sales.
Schedule campaigns
Do you not want to start campaigns right away?
No problem! Plan your campaigns, Leadeth® will launch them later.
Personalise messages
Personalise messages with dynamic variables. Or just integrate the name, company or job title of your prospect in bulk in just one click with the template editor.
CSV import/export
Easily upload your lead list in Leadeth® and start running a campaign. Or use it the other way around: export your generated leads.
Designed for agencies and people running multiple accounts
Our easy to use dashboard allows you to switch between different accounts in a second and keep an eye on the status of each account by using only one login.
If you've ever had a problem with sending messages to same prospects from different accounts, you can stop this with our built in option to exclude the
prospect if your other accounts have already targetted them.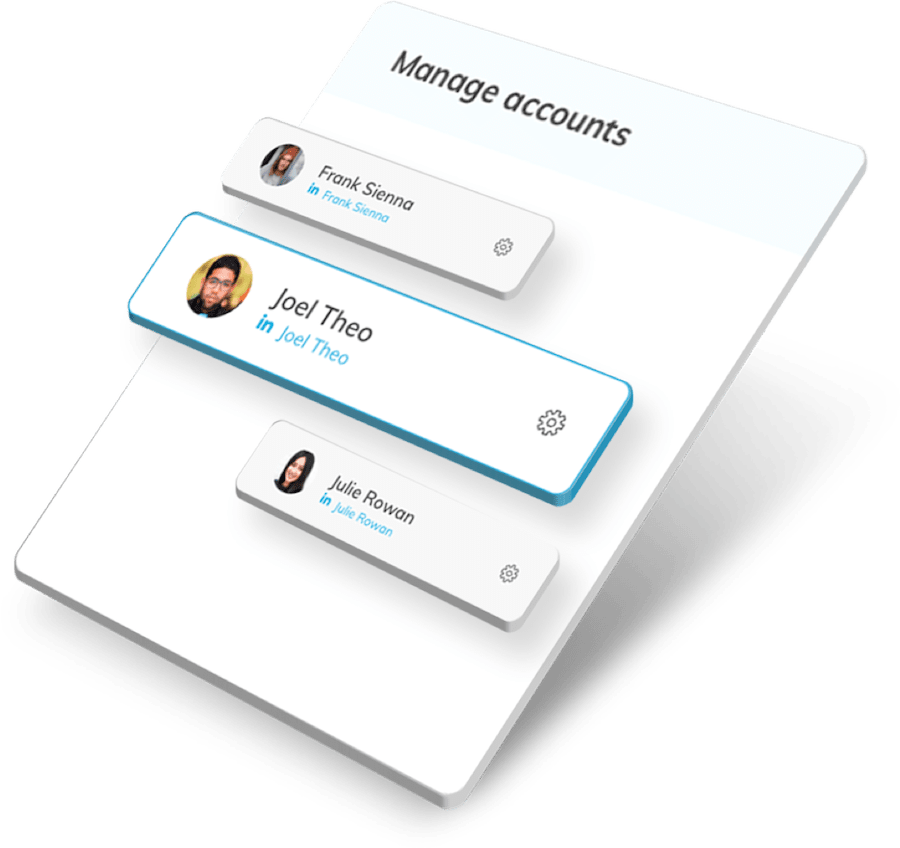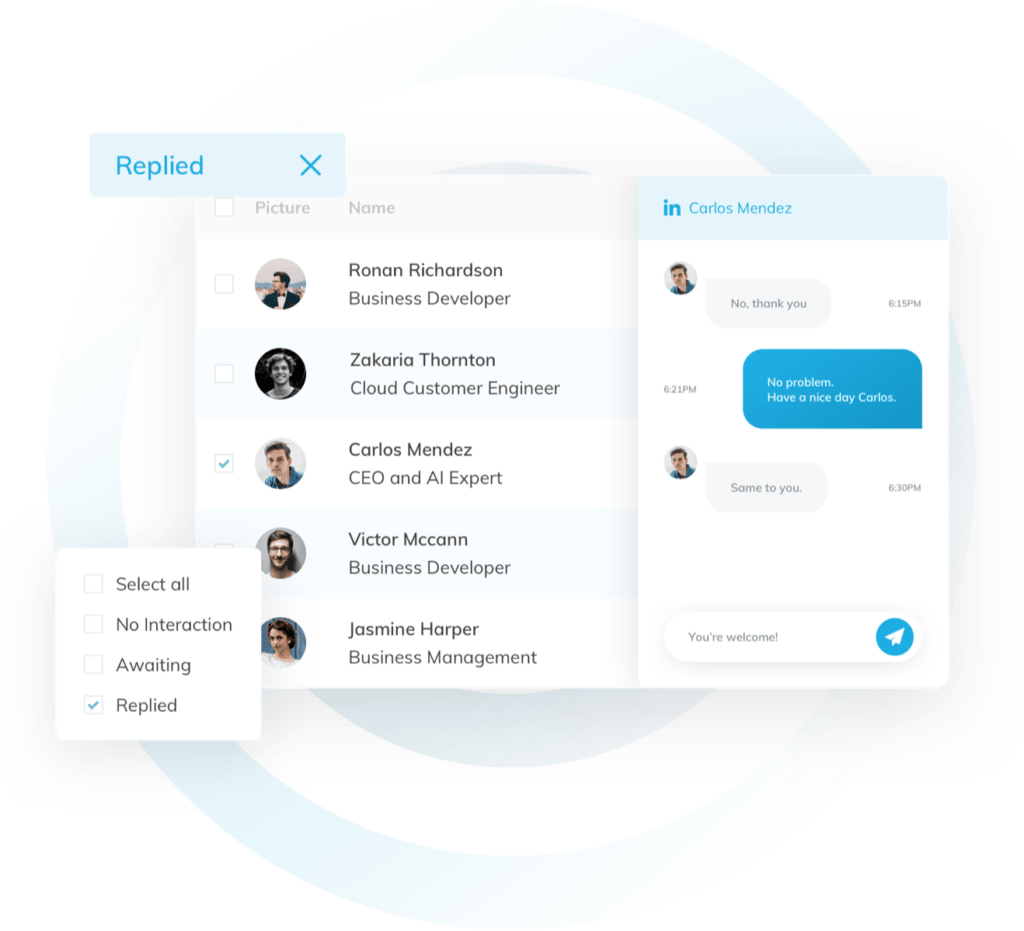 Allows you to see all messages in one place without leaving the app.
Flag important, Mark Unread, Reply as you do from your email. Chat Window on the sidebar shows full history of conversations for easy messaging.
Template reply messages can also be can added, selected and sent when responding to prospects, this really does save you time.
The safest tool for
social selling automation
Leadeth® is cloud-based. Therefore we give every user a unique dedicated IP address which means LinkedIn won't get an eye on you. Besides that, our algorithm mimics human behaviour so there are no suspicious actions that could flag your activity.
Leadeth® is the perfect software if you want to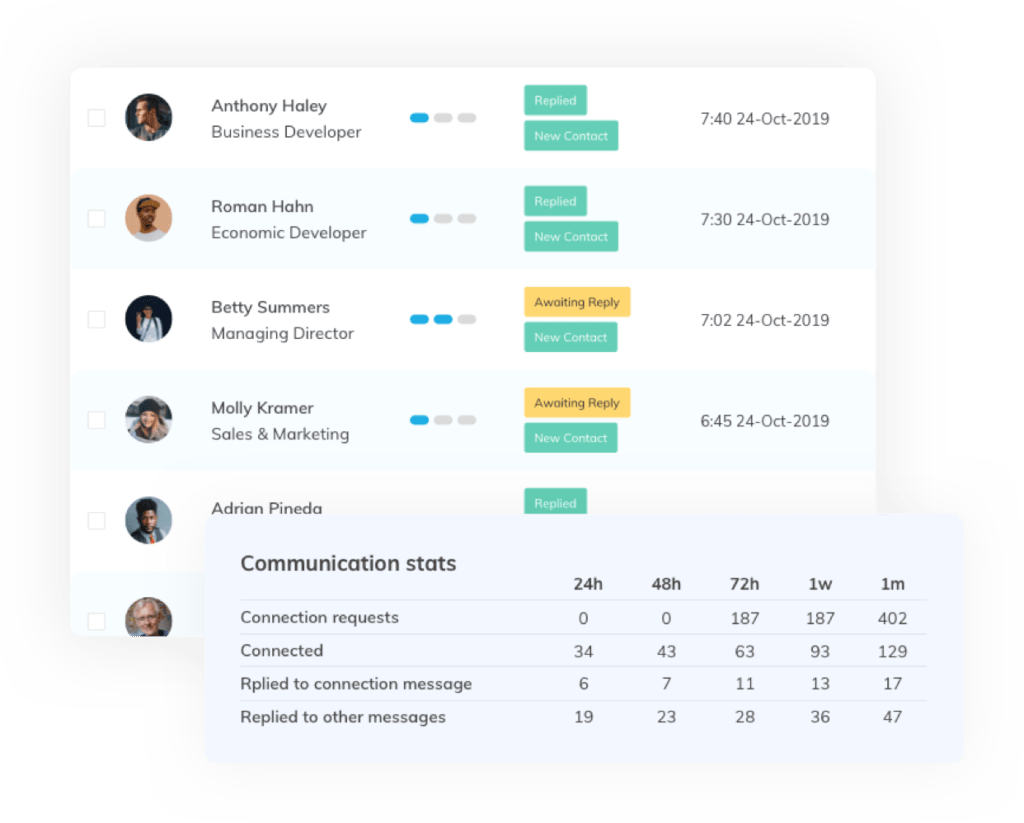 Generate leads
Generate thousands of new leads, entirely on autopilot, with worlds safest automation software for social selling.
Engage with your connections
Keep your network informed by sending bulk messages to the target audience you want to reach out to.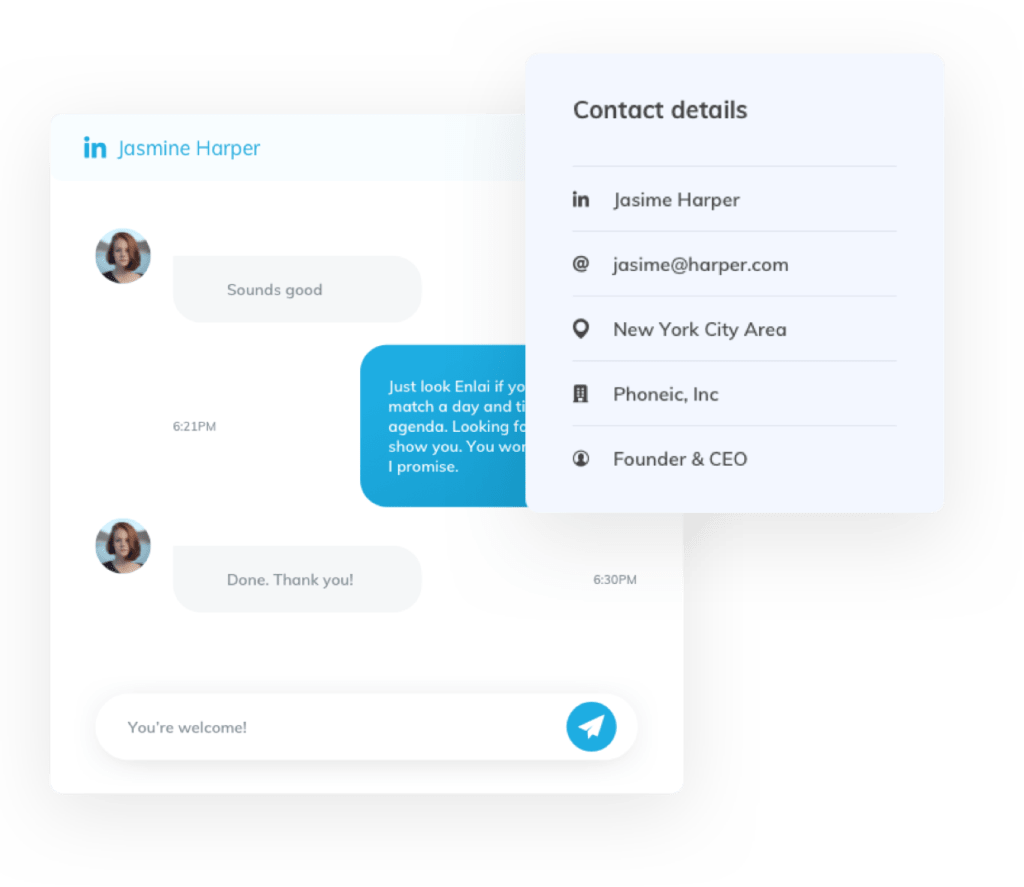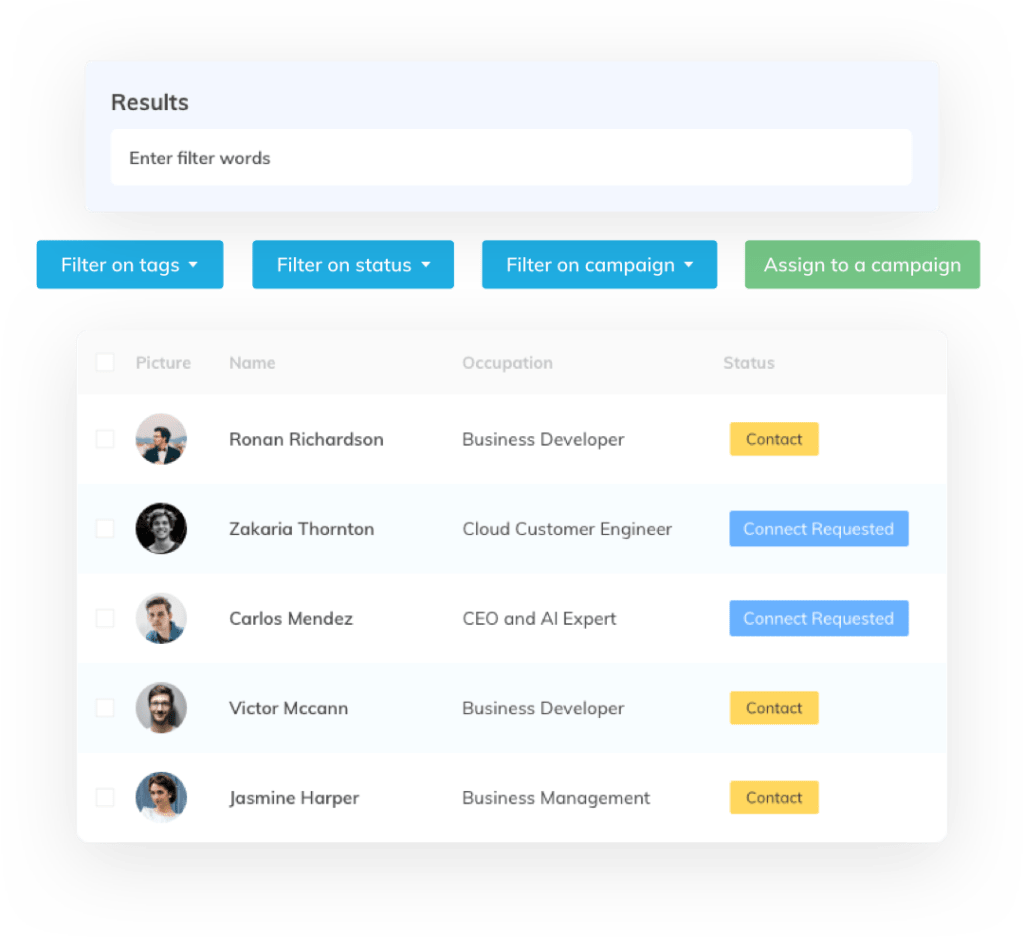 Recruit high potentials
Recruiting has never been easier.
Find your new colleagues on autopilot.
Some 12 months or so ago I had the good fortune of meeting Alex Smith.
During that time, he helped us to upgrade our lead generation system.
His technical and business insights, knowledge and sound advice have helped us enormously.
Whatever issue you might have regarding digital marketing Alex is your man.
Alex is there to guide us through key issues and ask all those difficult questions and challenges.
He goes above and beyond in helping us to grow and develop.
Perhaps most importantly he is an honest trader that only wants the best for his clients.
We have been working with Alex for a couple of years now and he has been a considerable part of The Business Network South Manchester's success.
Through Leadeth he has managed to connect us to senior decision makers in Manchester and Cheshire which has enabled us to grow to over 80 members now and we are withing touching distance of our target of 100 members which I am sure we will achieve in the next couple of months.
Alex introduced me to Leadeth and wow - we wanted to generate quality contacts to enhance our networking group and Alex's tool generated approximately 2-3 visitors every week.
Alex talked me through all the various parameters that we could tailor, he made it look so easy to operate.
Alex has worked with many of our client and all have given high praise for the results - as we have also seen
If you want to expand your network or grow your business Alex and his team will certainly get you well underway on that path
We highly recommend Leadeth, Alex and his team.
Alex and his team have been hugely responsible for the growth of my business over the last year. They have really helped me develop a world beating lead generation strategy using their software. They don't just stop at supplying software though… they're really happy to book in a call whenever we need it, to help us through any technical questions. This has been particularly useful in enabling me to refine my strategy. I would wholeheartedly recommend Alex and his team to any business looking to grow.
I would like to thank Alex for all his help over the first few months at my role at the Federation of small businesses. He is incredibly knowledgeable and provides a brilliant platform with Leadeth for lead generation & LinkedIn. His systems are efficient and he is very accessible. Thank you Alex!
Alex is a great guy always prepared to help out his clients, I used his system to attract leads and found it very useful. I would reccomend anyone looking to use Linkedin as a marketing tool to get in touch with Alex
I have been working with Alex Smith for the last year and half and he has transformed my business during Covid I would recommend him to any of my contacts.